Monika

Informacje
Pełne imię
Monika
Pseudonimy
Monia (przez Janka)
Płeć
Kobieta
Powiązania
Związki
Janek (ex-chłopak)
Praca
Modelka
Inne
Pierwszy odcinek
Odcinek 1
Odtwórca
Monika Pietrasińska
Monika to była dziewczyna Janka. Modelka znana z okładki popularnego czasopisma dla mężczyzn.
Historia postaci
Edit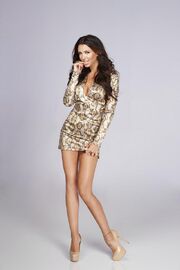 W odcinku 1 odcinku Monika zjawia się w klubie Janka. Nikodem podziwia ją, a potem informuje swojego przyjaciela o jej pojawieniu się. Mężczyzna od razu idzie przywitać się z kobietą. Zaczynają rozmawiać przy szampanie, gdy do klubu przychodzi Marcela z Justyną. Dziewczyna Janka widzi go z byłą dziewczyną i zazdrosna podchodzi, próbując spławić Monikę.
W odcinku 3 Monika siada przy stoliku na plaży z Jankiem, Marcelą i Justyną. Zazdrosna Marcela postanawia wyciągnąć Janka na taniec. Wspomina też, by zastanowił się nad kupnem lokalu, w którym się znajdują, bo naprawdę przypadł jej do gustu. Tymczasem Monika zostaje sama z Justyną i zapoznaje się z nią, ponieważ nie miały jeszcze do tego okazji. Dziewczyna mówi, że bardzo podoba jej się sukienka Justyny, a ta także komplementuje ubiór nowej koleżanki. Monika pyta się, jak układa się Justynie po przeprowadzce do Warszawy. Justyna krótko odpowiada, gdy wtem ponownie dzwoni do niej Wojtek. Dziewczyna w końcu postanawia odebrać telefon. Kilka godzin później Monika seksownie przechodzi obok Marceli, Izy, Justyny i Sylwii.
Ad blocker interference detected!
Wikia is a free-to-use site that makes money from advertising. We have a modified experience for viewers using ad blockers

Wikia is not accessible if you've made further modifications. Remove the custom ad blocker rule(s) and the page will load as expected.